Rectangular Steel Tubing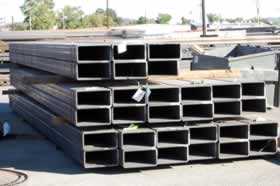 Rectangular Steel Tubing (a500b(c) / a513-1)
At Totten Tubes, we offer rectangular steel tubing in both mechanical and structural grades. Our selection includes a wide array of sizes, ranging from 3/8" x 1-1/2" up to 12" x 20".
Structural Rectangular Steel Tubing
Structural-grade rectangular steel tubing provides support to static structures of all types. We supply rectangular steel tubing for bridges, buildings, highways and much more. Our diverse selection means you will find the right steel tubing for your project at Totten Tubes.
 
For more detailed information about our structural-grade rectangular steel tubing, please view the a500 Spec Sheet.
Mechanical Rectangular Steel Tubing
Mechanical-grade rectangular steel tubing provides vital support to all types of mechanical applications. Big rig trucks, agricultural machinery, and even appliances rely on Totten Tubes for turnkey mechanical steel tubing. With a broad selection and expert customer service, we ensure that we can help you find the right steel for your application.
 
See more detailed information by reviewing the a513 Spec Sheet.
Finding the Right Fit
Because many companies stock steel tubing in a limited range of sizes, finding right size can be a challenge. That's why we are committed to stocking steel tubing in sizes that other companies don't sell – so that our customers can always find what they need, no matter how big or small.
Contact Totten Tubes
For more information about our rectangular steel tubing in structural or mechanical grades, contact Totten Tubes today.
Structural rectangular steel tubing a500b(c) and mechanical rectangular steel tubing a513-1 are represented in this stock list. Totten Tubes stocks rectangular tube from 3/8" x 1-1/2" up to 12" x 20".
Structural Rectangular Steel Tubing Specs
a500 Spec Sheet
a500b rectangle: 46k min yield / 58k min tensile
a500c rectangle: 50k min yield / 62k min tensile
Mechanical Rectangular Steel Tubing Specs
a513 Spec Sheet
a513 type 1 is produced from 1008 – 1015 steel
Click on desired size below to see exact sizes available.
Rectangular Steel Tubing a500b(c) / a513-1
3/8" x 1-1/2" rectangular steel tube
| Size | #/ft |
| --- | --- |
| .375" x 1.5" x .065 A513-1 HREW | 0.771 |
1/2" x 1" rectangular steel tube
| Size | #/ft |
| --- | --- |
| .5" x 1" x .049 A513-1 CREW | 0.467 |
| .5" x 1" x .065 A513-1 HREW | 0.606 |
1/2" x 1-1/4" rectangular steel tube
| Size | #/ft |
| --- | --- |
| .5" x 1.25" x .065 A513-1 HREW | 0.716 |
1/2" x 1-1/2" rectangular steel tube
| Size | #/ft |
| --- | --- |
| .5" x 1.5" x .049 A513-1 CREW | 0.634 |
| .5" x 1.5" x .065 A513-1 CREW | 0.826 |
| .5" x 1.5" x .083 A513-1 HREW | 1.035 |
1/2" x 2" rectangular steel tube
| Size | #/ft |
| --- | --- |
| .5" x 2" x .065 A513-1 CREW | 0.971 |
3/4" x 1" rectangular steel tube
| Size | #/ft |
| --- | --- |
| .75" x 1" x .065 A513-1 CREW | 0.665 |
3/4" x 1-1/2" rectangular steel tube
| Size | #/ft |
| --- | --- |
| .75" x 1.5" x .049 A513-1 CREW | 0.717 |
| .75" x 1.5" x .065 A513-1 HREW | 0.937 |
| .75" x 1.5" x .075 A513-1 HREW | 1.031 |
| .75" x 1.5" x .083 A513-1 HREW | 1.176 |
| .75" x 1.5" x .095 A513-1 HREW | 1.331 |
| .75" x 1.5" x .120 A513-1 HREW | 1.640 |
3/4" x 2" rectangular steel tube
| Size | #/ft |
| --- | --- |
| .75" x 2" x .065 A513-1 CREW | 1.158 |
| .75" x 2" x .095 A513-1 HREW | 1.654 |
1" x 1-1/4" rectangular steel tube
| Size | #/ft |
| --- | --- |
| 1" x 1.25" x .065 A513-1 HREW | 0.100 |
| 1" x 1.25" x .120 A513-1 HREW | 1.640 |
1" x 1-1/2" rectangular steel tube
| Size | #/ft |
| --- | --- |
| 1" x 1.5" x .049 A513-1 CREW | 0.800 |
| 1" x 1.5" x .065 A513-1 HREW | 1.048 |
| 1" x 1.5" x .075 A513-1 HREW | 1.192 |
| 1" x 1.5" x .083 A513-1 HREW | 1.317 |
| 1" x 1.5" x .095 A513-1 HREW | 1.492 |
| 1" x 1.5" x .120 A513-1 HREW | 1.844 |
1" x 2" rectangular steel tube
| Size | #/ft |
| --- | --- |
| 1" x 2" x .049 A513-1 CREW | 0.967 |
| 1" x 2" x .065 A513-1 HREW | 1.269 |
| 1" x 2" x .065 A513-1 GALV | 1.269 |
| 1" x 2" x .075 A513-1 HREW | 1.398 |
| 1" x 2" x .083 A513-1 HREW | 1.600 |
| 1" x 2" x .095 A513-1 HREW | 1.815 |
| 1" x 2" x .109 A513-1 HREW | 2.062 |
| 1" x 2" x .120 A513-1 HREW | 2.252 |
| 1" x 2" x .188 A513-1 HREW | 3.352 |
1" x 2-1/2" rectangular steel tube
| Size | #/ft |
| --- | --- |
| 1" x 2.5" x .065 A513-1 HREW | 1.490 |
| 1" x 2.5" x .083 A513-1 HREW | 1.881 |
| 1" x 2.5" x .120 A513-1 HREW | 2.660 |
1" x 3" rectangular steel tube
| Size | #/ft |
| --- | --- |
| 1" x 3" x .065 A513-1 HREW | 1.711 |
| 1" x 3" x .083 A513-1 HREW | 2.100 |
| 1" x 3" x .095 A513-1 HREW | 2.380 |
| 1" x 3" x .120 A513-1 HREW | 3.050 |
| 1" x 3" x .188 A513-1 HREW | 4.320 |
1" x 3-1/2" rectangular steel tube
| Size | #/ft |
| --- | --- |
| 1" x 3.5" x .083 A513-1 HREW | 2.446 |
| 1" x 3.5" x .120 A500B HSS | 3.476 |
| 1" x 3.5" x .180 A500B HSS | 5.065 |
1" x 4" rectangular steel tube
| Size | #/ft |
| --- | --- |
| 1" x 4" x .120 A513-1 HREW | 4.038 |
1-1/8" x 1-3/4" Caprail
| Size | #/ft |
| --- | --- |
| 1.125" x 1.75" x .075 A513-1 HREW | 1.175 |
1-1/4" x 2" rectangular steel tube
| Size | #/ft |
| --- | --- |
| 1.250" x 2" x .065 A513-1 CREW | 1.379 |
| 1.250" x 2" x .083 A513-1 HREW | 1.741 |
| 1.250" x 2" x .120 A513-1 HREW | 2.456 |
1-1/4 x 2-1/2" rectangular steel tube
| Size | #/ft |
| --- | --- |
| 1.250" x 2.5" x .083 A513-1 HREW | 2.023 |
| 1.250" x 2.5" x .120 A513-1 HREW | 2.864 |
1-1/2" x 2" rectangular steel tube
| Size | #/ft |
| --- | --- |
| 1.5" x 2" x .065 A513-1 CREW | 1.489 |
| 1.5" x 2" x .075 A513-1 HREW | 1.643 |
| 1.5" x 2" x .083 A513-1 HREW | 1.881 |
| 1.5" x 2" x .095 A513-1 HREW | 2.138 |
| 1.5" x 2" x .120 A513-1 HREW | 2.660 |
| 1.5" x 2" x .188 A513-1 HREW | 3.990 |
1-1/2" x 2-1/2" rectangular steel tube
| Size | #/ft |
| --- | --- |
| 1.5" x 2.5" x .065 A513-1 CREW | 1.711 |
| 1.5" x 2.5" x .083 A513-1 HREW | 2.100 |
| 1.5" x 2.5" x .120 A513-1 HREW | 3.050 |
| 1.5" x 2.5" x .188 A500B HSS | 4.320 |
| 1.5" x 2.5" x .250 A500B HSS | 5.410 |
1-1/2" x 3" rectangular steel tube
| Size | #/ft |
| --- | --- |
| 1.5" x 3" x .065 A513-1 CREW | 1.890 |
| 1.5" x 3" x .083 A513-1 HREW | 2.390 |
| 1.5" x 3" x .095 A513-1 HREW | 2.700 |
| 1.5" x 3" x .109 A513-1 HREW | 3.190 |
| 1.5" x 3" x .120 A513-1 HREW | 3.900 |
| 1.5" x 3" x .188 A500B HSS | 4.960 |
| 1.5" x 3" x .250 A500B HSS | 6.250 |
1-1/2" x 3-1/2" rectangular steel tube
| Size | #/ft |
| --- | --- |
| 1.5" x 3.5" x .083 A513-1 HREW | 2.670 |
| 1.5" x 3.5" x .120 A513-1 HREW | 3.900 |
| 1.5" x 3.5" x .188 A500B HSS | 5.600 |
| 1.5" x 3.5" x .250 A500b HSS | 7.110 |
1-1/2" x 4" rectangular steel tube
| Size | #/ft |
| --- | --- |
| 1.5" x 4" x .083 A513-1 HREW | 3.010 |
| 1.5" x 4" x .095 A513-1 HREW | 3.430 |
| 1.5" x 4" x .120 A513-1 HREW | 4.291 |
| 1.5" x 4" x .188 A500B HSS | 6.291 |
2" x 3" rectangular steel tube
| Size | #/ft |
| --- | --- |
| 2" x 3" x .065 A513-1 HREW | 2.120 |
| 2" x 3" x .075 A513-1 HREW | 2.474 |
| 2" x 3" x .083 A513-1 HREW | 2.670 |
| 2" x 3" x .095 A513-1 HREW | 3.030 |
| 2" x 3" x .120 A500B HSS | 3.760 |
| 2" x 3" x .188 A500B HSS | 5.590 |
| 2" x 3" x .250 A500B HSS | 7.100 |
| 2" x 3" x .313 A500B HSS | 8.430 |
2" x 4" rectangular steel tube
| Size | #/ft |
| --- | --- |
| 2" x 4" x .065 A513-1 HREW | 2.595 |
| 2" x 4" x .083 A513-1 HREW | 2.292 |
| 2" x 4" x .120 A500B HSS | 4.570 |
| 2" x 4" x .188 A500B HSS | 6.870 |
| 2" x 4" x .250 A500B HSS | 8.800 |
| 2" x 4" x .313 A500B HSS | 10.580 |
| 2" x 4" x .375 A500B HSS | 12.160 |
2" x 5" rectangular steel tube
| Size | #/ft |
| --- | --- |
| 2" x 5" x .120 A500B HSS | 5.390 |
| 2" x 5" x .188 A500B HSS | 8.150 |
| 2" x 5" x .250 A500B HSS | 10.510 |
| 2" x 5" x .313 A500B HSS | 12.700 |
| 2" x 5" x .375 A500B HSS | 14.710 |
2" x 6" rectangular steel tube
| Size | #/ft |
| --- | --- |
| 2" x 6" x .083 A513-1 HREW | 4.360 |
| 2" x 6" x .120 A500B HSS | 6.210 |
| 2" x 6" x .188 A500B HSS | 9.420 |
| 2" x 6" x .250 A500B HSS | 12.210 |
| 2" x 6" x .313 A500B HSS | 14.830 |
| 2" x 6" x .375 A500B HSS | 17.270 |
2" x 7" rectangular steel tube
| Size | #/ft |
| --- | --- |
| 2" x 7" x .188 A500B HSS | 10.700 |
| 2" x 7" x .250 A500B HSS | 13.910 |
2" x 8" rectangular steel tube
| Size | #/ft |
| --- | --- |
| 2" x 8" x .120 A500B HSS | 7.830 |
| 2" x 8" x .188 A500B HSS | 11.970 |
| 2" x 8" x .250 A500B HSS | 15.620 |
| 2" x 8" x .313 A500B HSS | 19.080 |
| 2" x 8" x .375 A500B HSS | 22.370 |
2" x 10" rectangular steel tube
| Size | #/ft |
| --- | --- |
| 2" x 10" x .188 A500B HSS | 14.530 |
| 2" x 10" x .250 A500B HSS | 19.020 |
| 2" x 10" x .313 A500B HSS | 23.340 |
| 2" x 10" x .375 A500B HSS | 27.480 |
2" x 12" rectangular steel tube
| Size | #/ft |
| --- | --- |
| 2" x 12" x .188 A500B HSS | 17.080 |
| 2" x 12" x .250 A500B HSS | 22.420 |
| 2" x 12" x .313 A500B HSS | 27.510 |
| 2" x 12" x .375 A500B HSS | 32.580 |
2-1/2" x 3" rectangular steel tube
| Size | #/ft |
| --- | --- |
| 2.5" x 3" x .120 A500B HSS | 4.330 |
| 2.5" x 3" x .188 A500B HSS | 6.250 |
| 2.5" x 3" x .250 A500B HSS | 7.970 |
2-1/2" x 3-1/2" rectangular steel tube
| Size | #/ft |
| --- | --- |
| 2.5" x 3.5" x .120 A500B HSS | 4.750 |
| 2.5" x 3.5" x .188 A500B HSS | 6.880 |
| 2.5" x 3.5" x .250 A500B HSS | 8.800 |
2-1/2" x 4" rectangular steel tube
| Size | #/ft |
| --- | --- |
| 2.5 x 4 x .120 A500B HSS | 5.108 |
| 2.5 x 4 x .188 A500B HSS | 7.513 |
| 2.5 x 4 x .250 A500B HSS | 9.652 |
2-1/2" x 5" rectangular steel tube
| Size | #/ft |
| --- | --- |
| 2.5" x 5" x .120 A500B HSS | 6.163 |
| 2.5" x 5" x .188 A500B HSS | 8.753 |
| 2.5" x 5" x .250 A500B HSS | 11.361 |
3" x 4" rectangular steel tube
| Size | #/ft |
| --- | --- |
| 3" x 4" x .083 A513-1 HREW | 3.800 |
| 3" x 4" x .120 A500B HSS | 5.390 |
| 3" x 4" x .188 A500B HSS | 8.150 |
| 3" x 4" x .250 A500B HSS | 10.510 |
| 3" x 4" x .313 A500B HSS | 12.700 |
| 3" x 4" x .375 A500B HSS | 14.290 |
3" x 5" rectangular steel tube
| Size | #/ft |
| --- | --- |
| 3" x 5" x .120 A500B HSS | 6.210 |
| 3" x 5" x .188 A500B HSS | 9.420 |
| 3" x 5" x .250 A500B HSS | 12.210 |
| 3" x 5" x .313 A500B HSS | 14.830 |
| 3" x 5" x .375 A500B HSS | 17.270 |
| 3" x 5" x .500 A500B HSS | 21.630 |
3" x 6" rectangular steel tube
| Size | #/ft |
| --- | --- |
| 3" x 6" x .120 A500B HSS | 7.020 |
| 3" x 6" x .188 A500B HSS | 10.700 |
| 3" x 6" x .250 A500B HSS | 13.910 |
| 3" x 6" x .313 A500B HSS | 16.960 |
| 3" x 6" x .375 A500B HSS | 19.820 |
| 3" x 6" x .500 A500B HSS | 25.010 |
3" x 7" rectangular steel tube
| Size | #/ft |
| --- | --- |
| 3" x 7" x .188 A500B HSS | 11.970 |
| 3" x 7" x .250 A500B HSS | 15.620 |
| 3" x 7" x .313 A500B HSS | 19.080 |
| 3" x 7" x .375 A500B HSS | 22.370 |
| 3" x 7" x .500 A500B HSS | 28.430 |
3" x 8" rectangular steel tube
| Size | #/ft |
| --- | --- |
| 3" x 8" x .120 A500B HSS | 8.695 |
| 3" x 8" x .188 A500B HSS | 13.250 |
| 3" x 8" x .250 A500B HSS | 17.320 |
| 3" x 8" x .313 A500B HSS | 21.210 |
| 3" x 8" x .375 A500B HSS | 24.930 |
| 3" x 8" x .500 A500B HSS | 31.810 |
3" x 9" rectangular steel tube
| Size | #/ft |
| --- | --- |
| 3" x 9" x .250 A500B HSS | 19.020 |
| 3" x 9" x .313 A500B HSS | 23.340 |
| 3" x 9" x .375 A500B HSS | 27.480 |
| 3" x 9" x .500 A500B HSS | 35.240 |
3" x 10" rectangular steel tube
| Size | #/ft |
| --- | --- |
| 3" x 10" x .188 A500B HSS | 15.800 |
| 3" x 10" x .250 A500B HSS | 20.720 |
| 3" x 10" x .313 A500B HSS | 25.420 |
| 3" x 10" x .375 A500B HSS | 30.020 |
| 3" x 10" x .500 A500B HSS | 41.490 |
| 3" x 10" x .625 A500B HSS | 47.730 |
3" x 12" rectangular steel tube
| Size | #/ft |
| --- | --- |
| 3" x 12" x .188 A500B HSS | 18.350 |
| 3" x 12" x .250 A500B HSS | 24.120 |
| 3" x 12" x .313 A500B HSS | 31.000 |
| 3" x 12" x .375 A500B HSS | 35.140 |
| 3" x 12" x .500 A500B HSS | 44.190 |
4" x 5" rectangular steel tube
| Size | #/ft |
| --- | --- |
| 4" x 5" x .188 A500B HSS | 10.700 |
| 4" x 5" x .250 A500B HSS | 13.910 |
| 4" x 5" x .313 A500B HSS | 16.960 |
| 4" x 5" x .375 A500B HSS | 19.820 |
| 4" x 5" x .500 A500B HSS | 25.010 |
4" x 6" rectangular steel tube
| Size | #/ft |
| --- | --- |
| 4" x 6" x .120 A500B HSS | 7.840 |
| 4" x 6" x .188 A500B HSS | 11.970 |
| 4" x 6" x .250 A500B HSS | 15.620 |
| 4" x 6" x .313 A500B HSS | 19.080 |
| 4" x 6" x .375 A500B HSS | 22.370 |
| 4" x 6" x .500 A500B HSS | 28.430 |
4" x 7" rectangular steel tube
| Size | #/ft |
| --- | --- |
| 4" x 7" x .188 A500B HSS | 13.250 |
| 4" x 7" x .250 A500B HSS | 17.320 |
| 4" x 7" x .313 A500B HSS | 21.270 |
| 4" x 7" x .375 A500B HSS | 24.930 |
| 4" x 7" x .500 A500B HSS | 31.840 |
4" x "8 rectangular steel tube
| Size | #/ft |
| --- | --- |
| 4" x 8" x .120 A500B HSS | 9.480 |
| 4" x 8" x .188 A500B HSS | 14.530 |
| 4" x 8" x .250 A500B HSS | 19.020 |
| 4" x 8" x .313 A500B HSS | 23.340 |
| 4" x 8" x .375 A500B HSS | 27.480 |
| 4" x 8" x .500 A500B HSS | 35.240 |
| 4" x 8" x .625 A500B HSS | 42.270 |
4" x 10" rectangular steel tube
| Size | #/ft |
| --- | --- |
| 4" x 10" x .188 A500B HSS | 17.080 |
| 4" x 10" x .250 A500B HSS | 22.420 |
| 4" x 10" x .313 A500B HSS | 27.590 |
| 4" x 10" x .375 A500B HSS | 32.580 |
| 4" x 10" x .500 A500B HSS | 42.050 |
| 4" x 10" x .625 A500B HSS | 50.760 |
4" x 12" rectangular steel tube
| Size | #/ft |
| --- | --- |
| 4" x 12" x .188 A500B HSS | 19.630 |
| 4" x 12" x .250 A500B HSS | 25.820 |
| 4" x 12" x .313 A500B HSS | 31.840 |
| 4" x 12" x .375 A500B HSS | 37.690 |
| 4" x 12" x .500 A500B HSS | 48.850 |
| 4" x 12" x .625 A500B HSS | 59.320 |
4" x 14" rectangular steel tube
| Size | #/ft |
| --- | --- |
| 4" x 14" x .188 A500B HSS | 22.180 |
| 4" x 14" x .188 A500B HSS | 29.230 |
| 4" x 14" x .313 A500B HSS | 36.100 |
| 4" x 14" x .375 A500B HSS | 42.790 |
| 4" x 14" x .500 A500B HSS | 55.660 |
| 4" x 14" x .625 A500B HSS | 67.820 |
4" x 16" rectangular steel tube
| Size | #/ft |
| --- | --- |
| 4" x 16" x .250 A500B HSS | 32.630 |
| 4" x 16" x .313 A500B HSS | 40.350 |
| 4" x 16" x .375 A500B HSS | 47.900 |
| 4" x 16" x .500 A500B HSS | 62.460 |
| 4" x 16" x .625 A500B HSS | 76.330 |
4" x 20" rectangular steel tube
| Size | #/ft |
| --- | --- |
| 4" x 20" x .313 A500B HSS | 48.860 |
| 4" x 20" x .375 A500B HSS | 58.100 |
| 4" x 20" x .500 A500B HSS | 76.070 |
5" x 6" rectangular steel tube
| Size | #/ft |
| --- | --- |
| 5" x 6" x .250 A500B HSS | 17.320 |
| 5" x 6" x .313 A500B HSS | 21.270 |
| 5" x 6" x .375 A500B HSS | 24.930 |
| 5" x 6" x .500 A500B HSS | 31.840 |
5" x 7" rectangular steel tube
| Size | #/ft |
| --- | --- |
| 5" x 7" x .188 A500B HSS | 14.530 |
| 5" x 7" x .250 A500B HSS | 19.020 |
| 5" x 7" x .313 A500B HSS | 23.340 |
| 5" x 7" x .375 A500B HSS | 27.480 |
| 5" x 7" x .500 A500B HSS | 35.240 |
| 5" x 7" x .625 A500B HSS | 43.670 |
5" x 9" rectangular steel tube
| Size | #/ft |
| --- | --- |
| 5" x 9" x .250 A500B HSS | 22.420 |
| 5" x 9" x .313 A500B HSS | 27.590 |
| 5" x 9" x .375 A500B HSS | 32.580 |
| 5" x 9" x .500 A500B HSS | 42.050 |
| 5" x 9" x .625 A500B HSS | 50.770 |
5" x 10" rectangular steel tube
| Size | #/ft |
| --- | --- |
| 5" x 10" x .188 A500B HSS | 18.350 |
| 5" x 10" x .250 A500B HSS | 24.120 |
| 5" x 10" x .375 A500B HSS | 35.130 |
| 5" x 10" x .500 A500B HSS | 45.500 |
| 5" x 10" x .625 A500B HSS | 55.850 |
6" x 8" rectangular steel tube
| Size | #/ft |
| --- | --- |
| 6" x 8" x .188 A500B HSS | 17.080 |
| 6" x 8" x .250 A500B HSS | 22.420 |
| 6" x 8" x .313 A500B HSS | 27.590 |
| 6" x 8" x .375 A500B HSS | 32.580 |
| 6" x 8" x .500 A500B HSS | 42.050 |
| 6" x 8" x .625 A500B HSS | 50.770 |
6 x 9" rectangular steel tube
| Size | #/ft |
| --- | --- |
| 6" x 9" x .250 A500B HSS | 24.120 |
| 6" x 9" x .375 A500B HSS | 34.270 |
| 6" x 9" x 500 A500B HSS | 45.500 |
| 6" x 9" x .625 A500B HSS | 55.850 |
6" x 10" rectangular steel tube
| Size | #/ft |
| --- | --- |
| 6" x 10" x .188 A500B HSS | 19.630 |
| 6" x 10" x .250 A500B HSS | 25.820 |
| 6" x 10" x .313 A500B HSS | 31.840 |
| 6" x 10" x .375 A500B HSS | 37.690 |
| 6" x 10" x .500 A500B HSS | 48.850 |
| 6" x 10" x 625 A500B HSS | 59.320 |
6" x 12" rectangular steel tube
| Size | #/ft |
| --- | --- |
| 6" x 12" x .188 A500B HSS | 22.180 |
| 6" x 12" x .250 A500B HSS | 29.230 |
| 6" x 12" x .313 A500B HSS | 36.100 |
| 6" x 12" x .375 A500B HSS | 42.790 |
| 6" x 12" x .500 A500B HSS | 55.660 |
| 6" x 12" x .625 A500B HSS | 67.820 |
6" x 14" rectangular steel tube
| Size | #/ft |
| --- | --- |
| 6" x 14" x .250 A500B HSS | 32.630 |
| 6" x 14" x .313 A500B HSS | 40.350 |
| 6" x 14" x .375 A500B HSS | 47.900 |
| 6" x 14" x .500 A500B HSS | 62.460 |
| 6" x 14" x .625 A500B HSS | 76.330 |
6" x 18" rectangular steel tube
| Size | #/ft |
| --- | --- |
| 6" x 18" x .250 A500B HSS | 39.430 |
| 6" x 18" x .313 A500B HSS | 48.860 |
| 6" x 18" x .375 A500B HSS | 58.100 |
| 6" x 18" x .500 A500B HSS | 76.070 |
| 6" x 18" x .625 A500B HSS | 93.250 |
7" x 9" rectangular steel tube
| Size | #/ft |
| --- | --- |
| 7" x 9" x .188 A500B HSS | 19.630 |
| 7" x 9" x .250 A500B HSS | 25.820 |
| 7" x 9" x .313 A500B HSS | 31.840 |
| 7" x 9" x .375 A500B HSS | 37.690 |
| 7" x 9" x .500 A500B HSS | 48.850 |
| 7" x 9" x .625 A500B HSS | 59.320 |
8" x 10" rectangular steel tube
| Size | #/ft |
| --- | --- |
| 8" x 10" x .188 A500B HSS | 22.180 |
| 8" x 10" x .250 A500B HSS | 29.230 |
| 8" x 10" x .313 A500B HSS | 36.100 |
| 8" x 10" x .375 A500B HSS | 42.790 |
| 8" x 10" x .500 A500B HSS | 55.660 |
| 8" x 10" x .625 A500B HSS | 67.820 |
8" x 12" rectangular steel tube
| Size | #/ft |
| --- | --- |
| 8" x 12" x .188 A500B HSS | 24.730 |
| 8" x 12" x .250 A500B HSS | 32.630 |
| 8" x 12" x .313 A500B HSS | 40.350 |
| 8" x 12" x .375 A500B HSS | 47.900 |
| 8" x 12" x .500 A500B HSS | 62.460 |
| 8" x 12" x .625 A500B HSS | 76.330 |
8" x 16" rectangular steel tube
| Size | #/ft |
| --- | --- |
| 8" x 16" x .250 A500B HSS | 39.430 |
| 8" x 16" x .313 A500B HSS | 48.860 |
| 8" x 16" x .375 A500B HSS | 58.100 |
| 8" x 16" x .500 A500B HSS | 76.070 |
| 8" x 16" x .625 A500B HSS | 93.250 |
8" x 20" rectangular steel tube
| Size | #/ft |
| --- | --- |
| 8" x 20" x .313 A500B HSS | 57.450 |
| 8" x 20" x .375 A500B HSS | 68.310 |
| 8" x 20" x .500 A500B HSS | 89.680 |
| 8" x 20" x .625 A500B HSS | 110.350 |
10" x 12" rectangular steel tube
| Size | #/ft |
| --- | --- |
| 10" x 12" x .250 A500B HSS | 36.550 |
| 10" x 12" x .375 A500B HSS | 52.990 |
| 10" x 12" x .500 A500B HSS | 69.260 |
10" x 14" rectangular steel tube
| Size | #/ft |
| --- | --- |
| 10" x 14" x .250 A500B HSS | 39.430 |
| 10" x 14" x .313 A500B HSS | 48.860 |
| 10" x 14" x .375 A500B HSS | 58.100 |
| 10" x 14" x .500 A500B HSS | 76.070 |
| 10" x 14" x .625 A500B HSS | 93.360 |
12" x 16" rectangular steel tube
| Size | #/ft |
| --- | --- |
| 12" x 16" x .313 A500B HSS | 57.360 |
| 12" x 16" x .375 A500B HSS | 68.310 |
| 12" x 16" x .500 A500B HSS | 89.680 |
| 12" x 16" x .625 A500B HSS | 110.350 |
12" x 20" rectangular steel tube
| Size | #/ft |
| --- | --- |
| 12" x 20" x .313 A500B HSS | 65.870 |
| 12" x 20" x .375 A500B HSS | 78.520 |
| 12" x 20" x .500 A500B HSS | 103.300 |
| 12" x 20" x .625 A500B HSS | 127.340 |
Call the office for sizes not shown