Square Steel Tubing a500b(c) / a513-1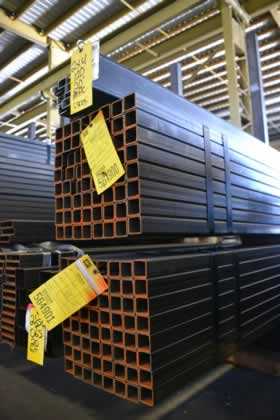 Square steel tubing is available in structural and mechanical grades. Structural square steel tubing a500b(c) and mechanical steel tubing a513-1 in are represented in this stock list. Totten Tubes stocks square tube steel tubing from 3/8" x 3/8" up to 20" x 20".
Structural Square Steel Tubing Specs
a500 Spec Sheet
a500b square: 46k min yield / 58k min tensile
a500c square: 50k min yield / 62k min tensile
Mechanical Square Steel Tubing Specs
a513 Spec Sheet
a513 type 1 is produced from 1008 – 1015 steel
Click on desired size below to see exact sizes available.
3/8" x 3/8" square steel tube
| Size | #/ft |
| --- | --- |
| 3/8" x 3/8" x .049 A513-1 CREW | 0.230 |
| 3/8" x 3/8" x .065 A513-1 CREW | 0.274 |
1/2" x 1/2" square steel tube
| Size | #/ft |
| --- | --- |
| 1/2" x 1/2" x .049 A513-1 CREW | 0.301 |
| 1/2" x 1/2" x .065 A513-1 HREW | 0.362 |
5/8" x 5/8" square steel tube
| Size | #/ft |
| --- | --- |
| 5/8" x 5/8" x .049 A513-1 CREW | 0.383 |
| 5/8" x 5/8" x .065 A513-1 HREW | 0.495 |
3/4" x 3/4" square steel tube
| Size | #/ft |
| --- | --- |
| 3/4" x 3/4" x .049 A513-1 CREW | 0.047 |
| 3/4" x 3/4" x .049 A513-1 GALV | 0.047 |
| 3/4" x 3/4" x .065 A513-1 HREW | 0.606 |
| 3/4" x 3/4" x .065 A513-1 GALV | 0.606 |
| 3/4" x 3/4" x .075 A513-1 HREW | 0.664 |
| 3/4" x 3/4" x .075 A513-1 GALV | 0.664 |
| 3/4" x 3/4" x .083 A513-1 HREW | 0.753 |
| 3/4" x 3/4" x .095 A513-1 HREW | 0.846 |
| 3/4" x 3/4" x .120 A513-1 HREW | 1.028 |
7/8" x 7/8" square steel tube
| Size | #/ft |
| --- | --- |
| 7/8" x 7/8" x .049 A513-1 CREW | 0.550 |
| 7/8" x 7/8" x .065 A513-1 HREW | 0.716 |
1" x 1" square steel tube
| Size | #/ft |
| --- | --- |
| 1" x 1" x .049 A513-1 CREW | 0.634 |
| 1" x 1" x .049 A513-1 GALV | 0.634 |
| 1" x 1" x .065 A513-1 CREW | 0.827 |
| 1" x 1" x .065 A513-1 GALV | 0.827 |
| 1" x 1" x .075 A513-1 HREW | 0.909 |
| 1" x 1" x .083 A513-1 HREW | 1.036 |
| 1" x 1" x .095 A513-1 HREW | 1.169 |
| 1" x 1" x .109 A513-1 HREW | 1.321 |
| 1" x 1" x .120 A500B HSS | 1.436 |
| 1" x 1" x .188 A500B HSS | 2.290 |
1-1/8" x 1-1/8" square steel tube
| Size | #/ft |
| --- | --- |
| 1.125" x 1.125" x .049 A513-1 CREW | 0.717 |
| 1.125" x 1.125" x .065 A513-1 CREW | 0.937 |
1-1/4" x 1-1/4" square steel tube
| Size | #/ft |
| --- | --- |
| 1.25" x 1.25" x .049 A513-1 CREW | 0.800 |
| 1.25" x 1.25" x .065 A513-1 HREW | 1.048 |
| 1.25" x 1.25" x .065 A513-1 GALV | 1.048 |
| 1.25" x 1.25" x .075 A513-1 HREW | 1.154 |
| 1.25" x 1.25" x .083 A513-1 HREW | 1.317 |
| 1.25" x 1.25" x .095 A513-1 HREW | 1.492 |
| 1.25" x 1.25" x .109 A513-1 HREW | 1.691 |
| 1.25" x 1.25" x .120 A513-1 HREW | 1.844 |
| 1.25" x 1.25" x .134 A513-1 HREW | 2.033 |
| 1.25" x 1.25" x .188 A513-1 HREW | 2.600 |
1-1/2" x 1-1/2" square steel tube
| Size | #/ft |
| --- | --- |
| 1.5" x 1.5" x .049 A513-1 CREW | 0.967 |
| 1.5" x 1.5" x .065 A513-1 HREW | 1.268 |
| 1.5" x 1.5" x .075 A513-1 HREW | 1.398 |
| 1.5" x 1.5" x .083 A513-1 HREW | 1.600 |
| 1.5" x 1.5" x .095 A513-1 HREW | 1.815 |
| 1.5" x 1.5" x .109 A513-1 HREW | 2.062 |
| 1.5" x 1.5" x .120 A513-1 HREW | 2.252 |
| 1.5" x 1.5" x .120 A513-1 GALV | 2.252 |
| 1.5" x 1.5" x .188 A513-1 HREW | 3.231 |
| 1.5" x 1.5" x .250 A513-1 HREW | 4.247 |
1/2" x 1/2" square steel tube
| Size | #/ft |
| --- | --- |
| 1/2" x 1/2" x .049 A513-1 CREW | 0.301 |
| 1/2" x 1/2" x .065 A513-1 HREW | 0.362 |
1-5/8" x 1-5/8" square steel tube
| Size | #/ft |
| --- | --- |
| 1.625" x 1.625" x .175 A513-1 HREW | 3.310 |
1-3/4" x 1-3/4" square steel tube
| Size | #/ft |
| --- | --- |
| 1.75" x 1.75" x .065 A513-1 CREW | 1.490 |
| 1.75" x 1.75" x .083 A513-1 CREW | 1.881 |
| 1.75" x 1.75" x .095 A513-1 CREW | 2.138 |
| 1.75" x 1.75" x .109 A513-1 HREW | 2.432 |
| 1.75" x 1.75" x .120 A513-1 HREW | 2.660 |
| 1.75" x 1.75" x .188 A513-1 HREW | 3.993 |
2" x 2" square steel tube
| Size | #/ft |
| --- | --- |
| 2" x 2" x .049 A513-1 CREW | 1.300 |
| 2" x 2" x .065 A513-1 GALV | 1.711 |
| 2" x 2" x .075 A513-1 HREW | 1.840 |
| 2" x 2" x .083 A513-1 HREW | 2.100 |
| 2" x 2" x .095 A513-1 HREW | 2.380 |
| 2" x 2" x .109 A513-1 HREW | 2.700 |
| 2" x 2" x .120 A500B HSS | 3.050 |
| 2" x 2" x .188 A500B HSS | 4.320 |
| 2" x 2" x .250 A500B HSS | 5.410 |
| 2" x 2" x .313 A500B HSS | 6.320 |
2-1/4" x 2-1/4" square steel tube
| Size | #/ft |
| --- | --- |
| 2.25" x 2.25" x .095 A513-1 HREW | 2.784 |
| 2.25" x 2.25" x .109 A513-1 HREW | 3.174 |
| 2.25" x 2.25" x .120 A500B HSS | 3.476 |
| 2.25" x 2.25" x .188 A500B HSS | 5.067 |
| 2.25" x 2.25" x .250 A500B HSS | 7.008 |
2-1/2" x 2-1/2" square steel tube
| Size | #/ft |
| --- | --- |
| 2.5" x 2.5" x .065 A513-1 CREW | 2.153 |
| 2.5" x 2.5" x .083 A513-1 HREW | 2.728 |
| 2.5" x 2.5" x .095 A513-1 HREW | 3.107 |
| 2.5" x 2.5" x .109 A513-1 HREW | 3.544 |
| 2.5" x 2.5" x .120 A500B HSS | 3.760 |
| 2.5" x 2.5" x .188 A500B HSS | 5.590 |
| 2.5" x 2.5" x .250 A500B HSS | 7.110 |
| 2.5" x 2.5" x .313 A500B HSS | 8.430 |
2.53" x 2.53" square steel tube
| Size | #/ft |
| --- | --- |
| 2.53" x 2.53" x .250 A500B FR TELE | 7.110 |
3" x 3" square steel tube
| Size | #/ft |
| --- | --- |
| 3" x 3" x .065 A513-1 CREW | 2.594 |
| 3" x 3" x .083 A513-1 HREW | 3.230 |
| 3" x 3" x .095 A513-1 CREW | 3.670 |
| 3" x 3" x .120 A500B HSS | 4.570 |
| 3" x 3" x .188 A500B HSS | 6.870 |
| 3" x 3" x .250 A500B HSS | 8.810 |
| 3" x 3" x .313 A500B HSS | 10.580 |
| 3" x 3" x .375 A500B HSS | 12.160 |
| 3" x 3" x .500 A500B HSS | 17.600 |
3.030" x 3.030" square steel tube
| Size | #/ft |
| --- | --- |
| 3.03" x 3.03" x .250 A500B FR TELE | 8.810 |
3-1/2" x 3-1/2" square steel tube
| Size | #/ft |
| --- | --- |
| 3.5" x 3.5" x .083 A513-1 HREW | 3.852 |
| 3.5" x 3.5" x .120 A500B HSS | 5.390 |
| 3.5" x 3.5" x .188 A500B HSS | 8.150 |
| 3.5" x 3.5" x .250 A500B HSS | 10.510 |
| 3.5" x 3.5" x .313 A500B HSS | 12.700 |
| 3.5" x 3.5" x .375 A500B HSS | 14.290 |
4" x 4" square steel tube
| Size | #/ft |
| --- | --- |
| 4" x 4" x .083 A513-1 HREW | 4.360 |
| 4" x 4" x .083 A513-1 GALV | 4.360 |
| 4" x 4" x .095 A513-1 HREW | 5.710 |
| 4" x 4" x .120 A500B HSS | 6.210 |
| 4" x 4" x .188 A500B HSS | 9.420 |
| 4" x 4" x .250 A500B HSS | 12.210 |
| 4" x 4" x .313 A500B HSS | 14.830 |
| 4" x 4" x .375 A500B HSS | 17.270 |
| 4" x 4" x .500 A500B HSS | 21.630 |
4-1/2" x 4-1/2" square steel tube
| Size | #/ft |
| --- | --- |
| 4.5" x 4.5" x .120 A500B HSS | 7.145 |
| 4.5" x 4.5" x .188 A500B HSS | 10.700 |
| 4.5" x 4.5" x .250 A500B HSS | 13.910 |
| 4.5" x 4.5" x .313 A500B HSS | 16.960 |
| 4.5" x 4.5" x .375 A500B HSS | 19.820 |
5" x 5" square steel tube
| Size | #/ft |
| --- | --- |
| 5" x 5" x .120 A500B HSS | 7.840 |
| 5" x 5" x .188 A500B HSS | 11.970 |
| 5" x 5" x .250 A500B HSS | 15.620 |
| 5" x 5" x .313 A500B HSS | 19.080 |
| 5" x 5" x .375 A500B HSS | 22.370 |
| 5" x 5" x .500 A500B HSS | 28.430 |
| 5" x 5" x .625 A500B HSS | 37.190 |
5-1/2" x 5-1/2" square steel tube
| Size | #/ft |
| --- | --- |
| 5.5" x 5.5" x .188 A500B HSS | 13.250 |
| 5.5" x 5.5" x .250 A500B HSS | 17.320 |
| 5.5" x 5.5" x .313 A500B HSS | 21.210 |
| 5.5" x 5.5" x .375 A500B HSS | 24.930 |
| 5.5" x 5.5" x .500 A500B HSS | 31.843 |
6" x 6" square steel tube
| Size | #/ft |
| --- | --- |
| 6" x 6" x .120 A500B HSS | 9.480 |
| 6" x 6" x .188 A500B HSS | 14.530 |
| 6" x 6" x .250 A500B HSS | 19.020 |
| 6" x 6" x .313 A500B HSS | 23.340 |
| 6" x 6" x .375 A500B HSS | 27.480 |
| 6" x 6" x .500 A500B HSS | 35.240 |
| 6" x 6" x .625 A500B HSS | 42.270 |
7" x 7" square steel tube
| Size | #/ft |
| --- | --- |
| 7" x 7" x .188 A500B HSS | 17.080 |
| 7" x 7" x .250 A500B HSS | 22.420 |
| 7" x 7" x .313 A500B HSS | 27.590 |
| 7" x 7" x .375 A500B HSS | 32.580 |
| 7" x 7" x .500 A500B HSS | 42.050 |
| 7" x 7" x .625 A500B HSS | 50.770 |
8" x 8" square steel tube
| Size | #/ft |
| --- | --- |
| 8" x 8" x .188 A500B HSS | 19.630 |
| 8" x 8" x .250 A500B HSS | 25.820 |
| 8" x 8" x .313 A500B HSS | 31.840 |
| 8" x 8" x .375 A500B HSS | 37.690 |
| 8" x 8" x .500 A500B HSS | 48.850 |
| 8" x 8" x .625 A500B HSS | 59.320 |
9" x 9" square steel tube
| Size | #/ft |
| --- | --- |
| 9" x 9" x .250 A500B HSS | 29.230 |
| 9" x 9" x .313 A500B HSS | 36.100 |
| 9" x 9" x .375 A500B HSS | 42.790 |
| 9" x 9" x .500 A500B HSS | 55.660 |
| 9" x 9" x .625 A500B HSS | 67.820 |
10" x 10" square steel tube
| Size | #/ft |
| --- | --- |
| 10" x 10" x .188 A500B HSS | 24.730 |
| 10" x 10" x .250 A500B HSS | 32.630 |
| 10" x 10" x .313 A500B HSS | 40.350 |
| 10" x 10" x .375 A500B HSS | 47.900 |
| 10" x 10" x .500 A500B HSS | 62.460 |
| 10" x 10" x .625 A500B HSS | 76.330 |
12" x 12" square steel tube
| Size | #/ft |
| --- | --- |
| 12" x 12" x .250 A500B HSS | 39.430 |
| 12" x 12" x .313 A500B HSS | 48.860 |
| 12" x 12" x .375 A500B HSS | 58.100 |
| 12" x 12" x .500 A500B HSS | 76.070 |
| 12" x 12" x .625 A500B HSS | 93.250 |
14" x 14" square steel tube
| Size | #/ft |
| --- | --- |
| 14" x 14" x .313 A500B HSS | 57.360 |
| 14" x 14" x .375 A500B HSS | 68.310 |
| 14" x 14" x .500 A500B HSS | 89.680 |
| 14" x 14" x .625 A500B HSS | 110.350 |
16" x 16" square steel tube
| Size | #/ft |
| --- | --- |
| 16" x 16" x .313 A500B HSS | 65.870 |
| 16" x 16" x .375 A500B HSS | 78.520 |
| 16" x 16" x .500 A500B HSS | 103.300 |
| 16" x 16" x .625 A500B HSS | 127.340 |
18" x 18" square steel tube
| Size | #/ft |
| --- | --- |
| 18" x 18" x .375 A500B HSS | 85.580 |
| 18" x 18" x .500 A500B HSS | 116.840 |
| 18" x 18" x .625 A500B HSS | 144.180 |
20" x 20" square steel tube
| Size | #/ft |
| --- | --- |
| 20" x 20" x .500 A500B HSS | 130.290 |
| 20" x 20" x .625 A500B HSS | 159.000 |