Powder Coating & Painting for Steel Tube & Pipe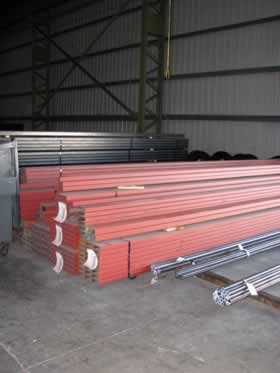 Primed, powder-coated, or painted steel pipe has many benefits, including reduced weld splatter, increased rust tolerance, lowered paint costs, and less time spent preparing material for fabrication. Bare metal tubes and pipes can also be primed, powder-coated, and painted locally in many colors for specific applications.
At Totten Tubes, we laser cut rectangular, round, or square tubing to meet your specifications. We then outsource painting and powder coating to high-quality partners to provide you with finished or semi-finished goods. We take care of every logistical detail, so you don't have to worry about anything.
Powder Coats & Paint for Any Industrial Steel Tube & Pipe
Most industries use powder coating and painting for steel tube in a vast range of applications. From fencing for sports fields to trailer manufacturers to store fixtures and beyond, powder coating and painting provide aesthetic appeal and help protect metal materials against rust and other corrosions.
Tube Powder Coating & Painting Capabilities
All of Totten Tubes' powder coating and painting applications happen in 20'x20'x45' paint booths. Whether you're looking to powder coat a bike frame or paint over galvanized steel, Totten Tubes has the experience to meet or exceed your requirements. Possible services for powder coating or painting include:
Painting over hot-dip galvanized coatings
Powder coats
Zinc-rich paint
Epoxy coats
Oxide primers
Polyurethanes
Multi-coat systems
And more.
High-Quality Solutions for Powder Coated or Painted Steel Pipe
No matter your powder coating or painting needs, Totten Tubes is ready to get the job done. Since 1955, we have provided high-quality and fast solutions for steel pipe and tubing needs throughout the western United States and beyond. Along with our powder coating and painting, we also offer
custom tubing services
, including:
Contact Totten Tubes for Steel Tube Powder Coating Today
For more information about our tube and pipe painting or powder coating services, contact Totten Tubes today. If you're ready to get started, request a quote. Our experts will be in touch with you soon.