Sustainable Steel Building Materials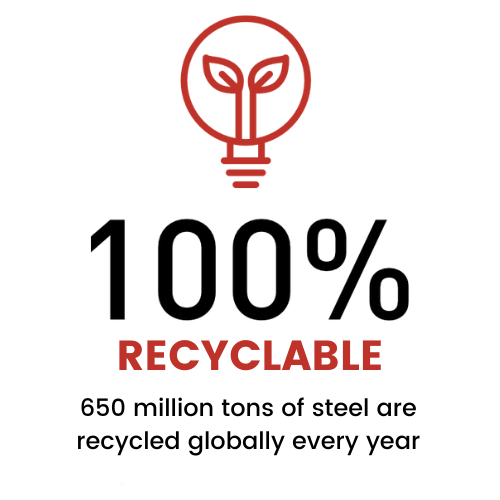 Sustainability and using eco-friendly building materials is a growing priority for builders across industries. From manufacturing
aftermarket automotive components
to
commercial construction
and
many other industries
, using green steel construction materials is an excellent step in creating more cost-effective and responsible practices for your manufacturing or building operation.
Totten Tubes Uses Responsible Sourcing & Eco-Friendly Practices to Deliver Sustainable Steel Tube
As your premier steel tube distributor, Totten Tubes is ready to join you on your journey to more sustainable systems. Our eco-friendly steel tube is sourced from reputable suppliers, delivered using efficient and responsible practices, and produced using low-waste methods. We are your link to the world's most efficient and environmentally responsible steel supply chain.
Contact us
today to learn more about our green business practices, eco-friendly steel tube, and available
steel tube inventory
.
Green Steel Tube Products
Totten Tubes has the extensive inventory and vast experience necessary to meet the demands of sustainable manufacturing and construction projects across markets. In addition to
our comprehensive catalog
, we specialize in responsibly sourcing hard-to-find and non-standard steel tube products. All orders, inventory or sourced, include:
Environmental Product Declarations (EPDs)
LEED certifications upon request
Post-consumer and post-industrial recycled percentages available
Low-waste steel tube processing services
And more!
Call
800-882-3748
to speak with a Totten Tubes representative and receive assistance navigating your options, selecting the right eco-friendly steel tube, or beginning a specialty order.
Recycled Steel Tube
Steel is 100% recyclable, making it an ideal solution for builders and manufacturers working to create more sustainable assemblies and parts. Our products are manufactured using up to 90% recycled scrap steel, making them an eco-friendly choice without compromising on quality. Recycled green steel tube provides traditional steel's strength, durability, and reliability while reducing the demand for virgin resources.
Low-Carbon Steel Tube
Low-carbon steel, also called mild steel, contains less than 0.3% of carbon. It is used to build frames in commercial or residential structures, bridges, automotive components, and more. Low-carbon steel is an excellent choice when creating more sustainable final products.
Sustainable Steel Tube & Eco-Friendly Practices are Totten Family Values
At
Totten Tubes
, sustainability is not an option. It is a necessity. As a third-generation family business, Totten Tubes is dedicated to helping you create more sustainable building practices through top-of-the-line steel tube products. We work hard to ensure our facilities and delivery methods are sustainable and responsible, passing on cost savings and a better environment for you, your workers, and end users.
Eco-Friendly Sourcing
We use responsible steel sourcing methods to ensure that our tube comes from reputable domestic suppliers who adhere to strict eco-friendly protocols and standards. By choosing sustainable building materials, we reduce our carbon footprint and contribute to the preservation of natural resources.
Optimized & Responsible Transportation Methods
We have designed and implemented an efficient logistics network to maximize your resources and minimize environmental damage. We:
Consolidate shipments for maximum efficiency
Use fuel-efficient vehicles
Work with transportation partners dedicated to reducing emissions
Are California Air Resources Board (CARB) compliant
Seek to reduce our sales and delivery fleets' carbon footprints by up to 30% by 2027
Promote employee adoption of EV passenger vehicles through the installation of charging stations at all Totten Tubes facilities by 2025
Energy-Efficient Operations with Reduced Waste
Totten Tubes' innovative facilities are equipped with energy-efficient technologies to consume less energy, reduce greenhouse gas emissions, and have a small environmental impact throughout all processing and packaging operations. We work to responsibly manage our waste streams to reduce landfill contributions and promote a healthier, more sustainable economy.
We are continuously looking for opportunities to introduce more sustainable and eco-friendly practices. For instance, we are currently working to reduce our carbon footprint by 20% through installing solar power at all our family-owned facilities by 2025.
Totten Tubes Helps You Build a More Eco-Friendly Future
Totten Tubes is dedicated to helping you complete more sustainable industrial and commercial assemblies through eco-friendly steel building materials. Our steel tube products,
laser tube cutting services
, and
custom tube processing services
are all designed to minimize environmental impact without lowering performance.
Ready to start an order or learn more about how Totten Tubes can support your sustainability initiatives through high-quality green steel tube?
Request a quote
or
contact your nearest location
today.