Philanthropy
OUR MISSION STATEMENT:
Totten Tubes, through its charitable giving program, reflects its commitment to shareholders, customers, vendors and employees, as well as to communities the company serves.
Throughout 2019 and 2020, we have had the privilege of contributing to the following organizations:
2021
Bridges to Prosperity
Midnight Mission
Shepherd's Pantry
Foothill Unity Center
American Cancer Society
Vetrans of San Diego
Neighboorhoold Homework House
American Heart Association
2nd Harvest Food Bank
Knights of Columbus
Sierra Madre Little League
Vetrans in Arcadia
MSCI Scholorship Program
St. Mary's Food Bank
Feeding America
San Diego Food Bank
San Diego Rescue
Marines Toys for Tots
Community Foundation of San Joaquin
Stockton Shelter for the Homeless
Second Harvest Food Bank
Giver Every Child a Chance
Shriners Hospital
Oregon Food Bank
Impact NW
Clark Country Food Bank
2020
Sierra Madre Little League
The Michael J. Fox Foundation for Parkinson's Research
Grace of Calvary Kid City
MSCI Southern California Chapter
2019
Sierra Madre Little League
Grace of Calvary Kid City
Arcadia Rotary Foundation
American Heart Association
Multiple Sclerosis Association of America
CSUF Philanthropic Foundation
Foothill Church / Foothill Unity Center
The Rotary Club of Monrovia
Catholic Big Brothers / Big Sisters
Pasadena Community Foundation
2020 - 2021
Totten Tubes has developed a supply chain partnership with Bridges to Prosperity which will work to donate approximately $80,000 of A500B pipe size round tubing for the construction of footbridges in developing nations in 2021. These vital bridges will create easy and safe access to vital resources such as work, food, education and medical services for over 100,000 people. It's a great privilege to be a part of such a unique and impactful global effort!

DECEMBER 2020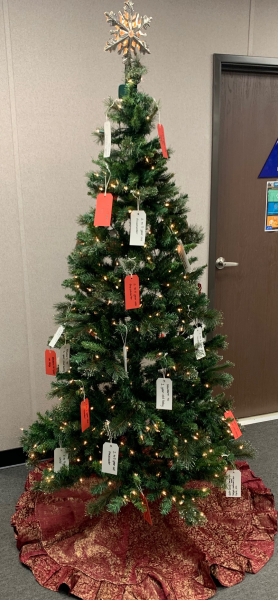 This year Totten Tubes chose The Midnight Mission for our holiday giving. The
Midnight Mission has been helping the homeless and near homeless since 1914.
Every year they provide Christmas gifts to families in need. They rely on
donations to make this happen.

Each tag on the tree represents a child's gift wish. We will replace each tag with
a gift for the child and an ornament for the tree. We expect to have a beautifully
decorated tree with plenty of gifts by Christmas!

Employees may also choose to purchase items on The Midnight Mission's
Amazon Wish List and have it delivered directly to them.

We will deliver the gifts to The Midnight Mission on December 21, 2020.

The Midnight Mission serves the community every holiday season.

We are grateful to have a small part in helping!
MAY THROUGH JULY 2020

At the beginning of the COVID pandemic, we knew we wanted to help those hit hardest by the crisis. Totten Tubes matches all employee contributions to food banks or organizations offering COVID 19 support.

We're always humbled to learn that any contribution reaps great benefit, as noted by the letter below from God's Pantry in Pomona, CA.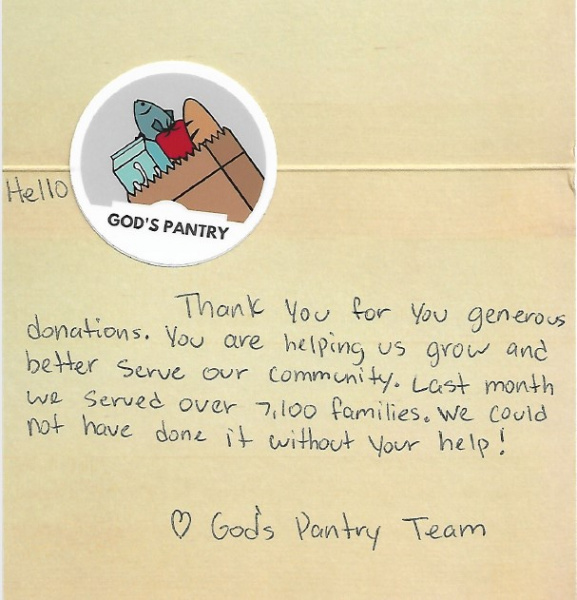 DECEMBER 2019

In December 2019, we had the pleasure on contributing to an outstanding local organization, The Midnight Mission. Founded in 1914 in Los Angeles, T.M.M. helps men, women and children experiencing homelessness.

Our staff was visited by then public affairs manager, Joey Weinert, who educated us on the vast array of services provided by the mission, which include food, bridge housing, education, mental health services, a job readiness program and their Courtyard Outreach which provides a protected area on the grounds for individuals resistant to the idea of a shelter.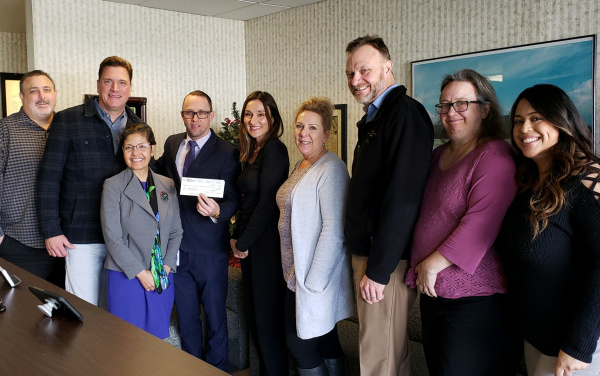 The Azusa branch of the Philanthropy committee present The Midnight Mission with a contribution.
OCTOBER 2019

In addition to monetary contributions, Totten Tubes has volunteered our time to helpful causes.

In October 2019, our Lathrop Branch committed to a one-year contract to The Hope Ministries which hosts The Hope Shelter apartments in the city of Manteca. The rent-free apartments are available to families looking to rehabilitate their lives in a structured and supportive environment. Each apartment is "adopted" by groups or individuals to maintain for an entire year. When our Lathrop branch reached out to the ministry, an apartment - which needed much TLC - had just opened up.

The contract includes maintenance, supplies and decor for families who live there for up to three months at a time. When a family moves out, our Lathrop branch is contacted to ensure everything is in working order, including appliances, bedding and toiletries, for the next family. Since 2019, our Lathrop branch has served approximately five families.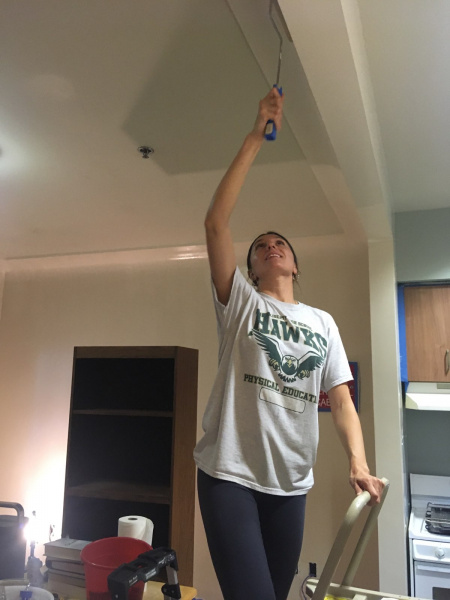 Rita refreshes the ceilings with a fresh coat of paint.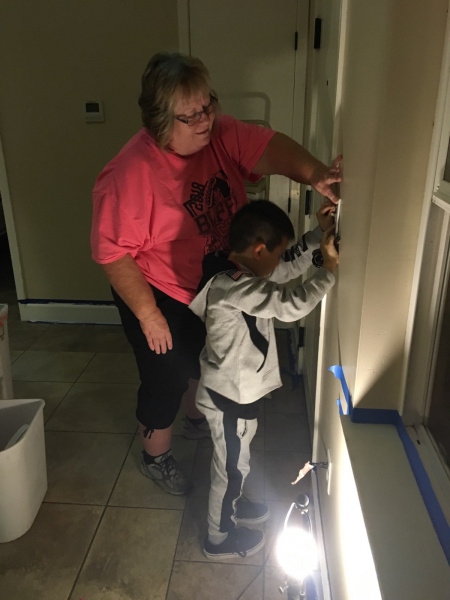 Sandy and Noah (Noe's son who was super helpful!) ensure lights are in working order.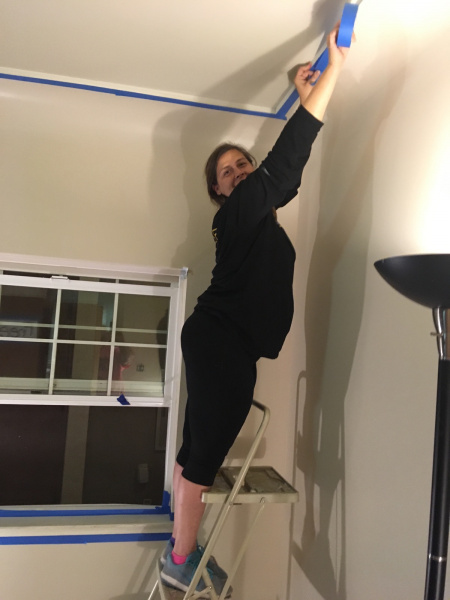 Brandy applies the trim, everyone's favorite job.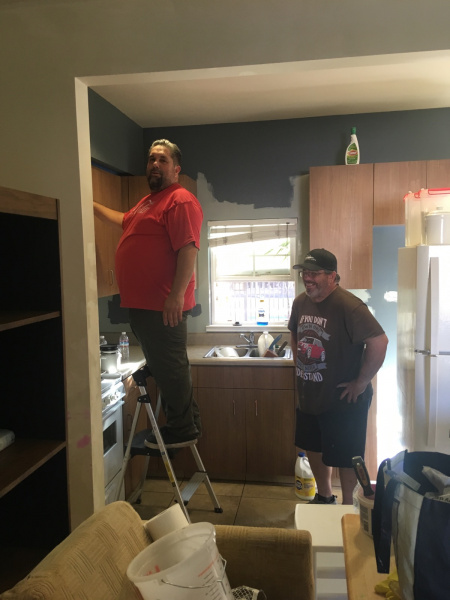 Marcelo and Dan rehab the kitchen.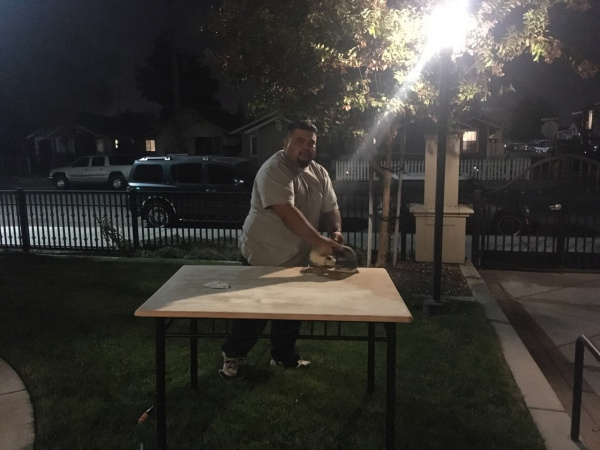 Noe sands the kitchen table to prep for a new paint job.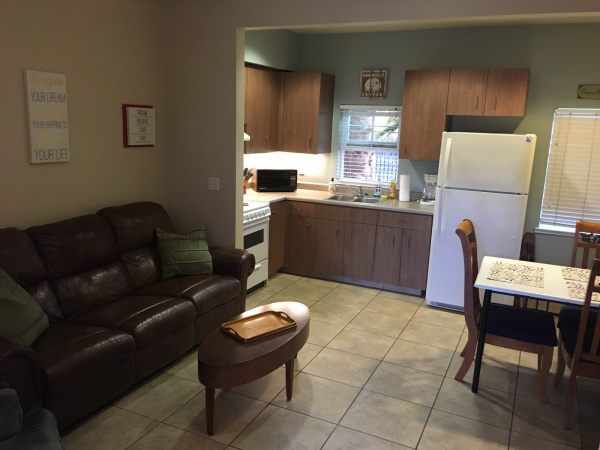 The finished product waits for a new family!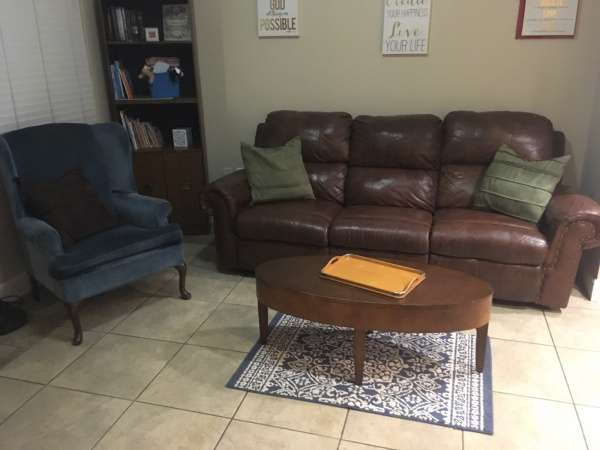 The furniture was donated by a local charity.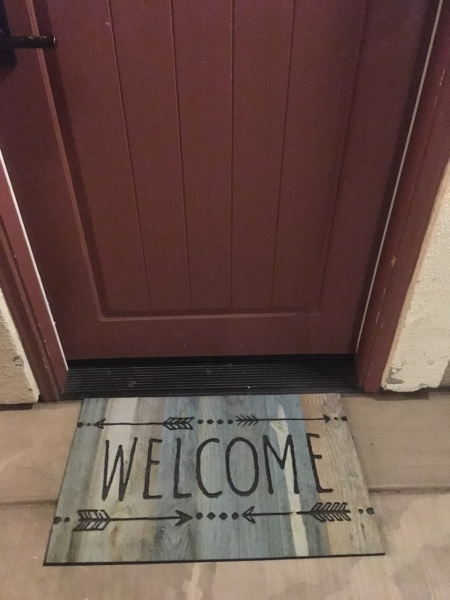 The apartment was cleaned from top to bottom and includes loving touches such as this welcome mat and toys for incoming children.