About Us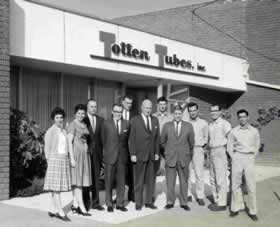 Since 1955, our priority has been providing the marketplace access to an extensive inventory of tubular products. At Totten Tubes, we found our niche early in structural steel tubing, mechanical ERW tube, and ASTM pipe products. As our industry has become more sophisticated, so have we. Today, as a specialist in hollow structural sections (HSS), multiple pipe product lines (ASTM / API), and seamless products, Totten Tubes provides expertise, value, service, and the greatest selection of steel tubing and pipe products.
An Extensive and Impressive Inventory
You will find unique and difficult to source steel tube sizes at Totten Tubes. To answer the needs of our diverse customer base, Totten Tubes purchases steel tubing and pipe sizes from manufacturers all over the world. We bring the largest selection of tube and pipe products to market, including custom structural steel tubing and ASTM pipe products with specialty dimensions. With our immense range of sizes, we are confident we have the products you need.
The Totten Standard of Service
We are efficient at processing the most complicated of orders with great attention to detail. We offer many different processing services, and our attention to detail, efficiency, and thoughtfulness will make your job easier.
Serviceable Regions
Our five locations in the Western United States work cohesively to service local and extended markets throughout the Americas and Pacific Rim. As our company has grown, the world has shrunk, and our products are only a truck, rail car, or container ship away from your place of business.
Azusa, CA (Los Angeles)
Lathrop, CA (Northern California)
Phoenix, AZ
Santee, CA (San Diego)
Vancouver, WA
Contact Totten Tubes for more information or request a quote today!