Steel Tube Saw Cutting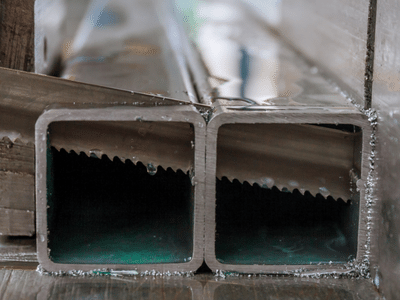 Band saw cutting is a fast, efficient process that allows entire bundles of steel tubes to be cut at the same time. It is an ideal cutting method for large tubes and large volume batches.
Totten Tubes provides band saw cutting for structural tube. The value-added service allows our customers to achieve more throughput without adding workforce.
Applications for Band Saw Cutting
Band saw cutting is a cost-effective tube cutting method, allowing all kinds of materials to be cut quickly and efficiently. Because of its benefits, it's
useful in a variety of industries
.
At Totten Tubes, we cut for all market segments, including:
Structural steel fabrication
OEM
Furniture Mfg
Ag Equipment Mfg
Industrial Fabrication
Aerospace Mfg
Efficient Band Saw Cutting from Totten Tubes
We can cut and package kits of parts ready to assemble. We have 10 automatic vertical band saws and one horizontal band saw in five locations capable of cutting:
Full bundles up to 25" X 30"
Rounds up to 25"
Any wall thickness
Carbon, galvanized and stainless steel
Up to 60 degree miters and compound miters
No max length
Contact Totten Tubes Today for Band Saw Cutting
Totten Tubes offers an extensive inventory of steel tubing including HSS, as well as processing services like band saw cutting to provide you with the structural steel tube that your application requires. To learn more,
contact us
today or
request a quote
.