Sandblasting & Shot Blasting Services for Steel Pipe & Tube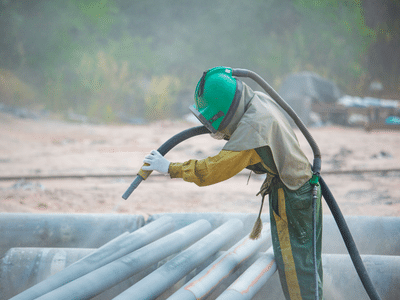 To counter oxidation, steel manufacturers coat steel with an oily lacquer. While this slows the oxidation process, it can make it challenging to work with the lacquered steel. Fortunately, there are ways to remove lacquer coating and rust from metal. One way is through Totten Tubes' sandblasting services.

While Totten Tubes does not conduct in-house sandblasting, we are a one-stop shop for all your steel pipe and tube. Rather than requiring you to ship your steel tube to a sandblaster and gather it yourself, we take care of all sandblasting deliveries and logistics. Our capabilities include 20'x20'x45' sandblasting rooms with temperature and humidity control to prevent oxidation.

Take the worry out of your steel sandblasting and shot blasting services by leaving it to the experts at Totten Tubes.
Sandblasting & Shot Blasting for Steel Pipe and Tube
Sandblasting is a process where sand is blasted at steel or metal to remove rust, paint, or oil on the steel. Shot blasting is a similar service used to clean steel. However, shot blasting uses tiny steel balls to clean steel pipe and tubing. Shot blasting is popular because it creates a unique texture to the steel and promotes better paint adherence.
Sandblasting and shot blasting are quick, cost-effective, and prepare steel surfaces for further processing. After sandblasting or shot blasting, paint adheres better to the steel,
galvanizing
is even stronger, and fabrication becomes much, much simpler. Sandblasting provides new steel with a mildly abrasive cleaning, so you are left with a smooth surface free of imperfections.
Who Uses Sandblasting & Shot Blasting Services?
Sandblasting and shot blasting are used by any industry for applications requiring steel pipe or tube to be stripped of rust, paint, or oil before being primed, powder-coated, or painted. Sandblasting and shot blasting is commonly used by:
Fabricators
Manufacturing operations
Galvanizers
And more.
How Much Does Sandblasting or Shot Blasting Cost?
Sandblasting and shot blasting services are inexpensive. Plus, you can save money by removing rust or paint from steel tubing and reusing it.
How Long Does Sandblasting & Shot Blasting Metal Take?
Sandblasting or shot blasting cleans steel in a matter of hours.
Are Sandblasting & Shot Blasting Eco-Friendly?
Most sandblasting materials are environmentally friendly as the process does not require the use of any harsh chemicals.
How Safe is the Sandblasting & Shot Blasting Process?
Sandblasting and shot blasting clean steel without causing harm to it and are safer for workers than chemical cleaning.
One-Stop Shop for Steel Tube & Pipe Services in Los Angeles, San Diego, and Phoenix
Since 1955, Totten Tubes has provided an extensive inventory of tubular products. Our goal is to help you complete as much preparation as possible before your orders leave our facility. In addition to our sandblasting and shot blasting, we offer
other custom services
, including:
To learn more, request a quote or contact Totten Tubes today.