History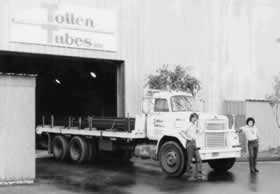 In 1955, Marvin Totten established the first Totten Tubes warehouse in South Central Los Angeles. With minimal equipment and one employee, Marvin carved the Totten name into the industry order by order.
In 1960, the company built a new facility in East Los Angeles where it would have more room for a larger staff and a growing inventory. Bringing his three sons into the business (Dave in '63, Jeff in '65, and Tracy in '76) Marvin retired from daily duties in 1992 and cheered on his business from the boardroom.
The company has grown regionally over the last few decades: a branch in San Diego (1983), moved headquarters to Azusa (1999), a branch in Phoenix (2000), a branch in Northern California (2011), and most recently a branch in Vancouver, WA.