Laser Tube Cutting
From a simple mounting hole to an ornate architectural detail, precision is everything. Laser tube cutting makes clean cuts that meet print every time. At Totten Tubes, we've invested in the Mazak 3D Fabri Gear 400 II, which uses a 4000-watt laser to cut steel tubes with revolutionary accuracy and speed.
Production Capabilities
The Mazak 3D Fabri Gear 400 II gives us the flexibility to handle jobs of all sizes. It is a 6-axis machine with an articulating head that makes it possible to produce a wider variety of cuts. 6-axis technology allows us to create precise angles and beveled edges.
Whether you need a long manufacturing run, a short run for a custom job or just-in-time production, Totten Tubes can help. With both a 40-foot infeed and 40-foot outfeed, as well as the capability to handle any material up to ¾ of an inch thick, our laser cutter accommodates tubing in a wide range of sizes. Round, square, and rectangular tubes can be processed using this technology.
Request a quote to get your project started or contact Totten Tubes today to learn more.
Watch the Mazak 3D Fabri Gear 400 II in Action
Check out this video to see just how quickly the Mazak 3D Fabri Gear 400 II makes laser-sharp cuts in steel tubes:
6 Reasons to Choose Totten Tubes for Laser Tube Cutting
Precision: When anything has to be done by hand, the chances of human error increase – even more so when the worker doing the cutting lacks the skills and experience necessary for the job. Laser tube cutting not only eliminates human error; it relieves you of having to pay top dollar for a highly experienced worker.
Speed: Before tools like the Mazak 3D Fabri Gear 400 II, tubes had to be processed by hand. To achieve precision, workers had to cut very slowly. As a result, processing a tube could take hours. The Mazak 3D Fabri Gear 400 II has reduced this time to mere minutes.
Efficiency: Laser tube cutting services deliver ready-to-assemble, turnkey parts. We can laser cut parts with a tab and a slot so that you can snap them together and weld them without having to build a jig and a fixture to hold them in place.
Excellence: The precision you get with laser tube cutting isn't just about making cuts that meet print. Our laser tube cutting tool makes clean cuts, eliminating the need for deburring.
Release Capital: We invested in the Mazak 3D Fabri Gear 400 II so you don't have to. Totten Tubes' laser tube cutting services frees up capital; instead of allocating capital toward bringing this technology in-house, you can put toward other important upgrades or expenses.
Depth of Inventory: At other shops, you may have to wait if you need a size that they don't keep in stock. At Totten Tubes, we stock steel tubing in a wide variety of sizes and lengths. We save you from having to wait or sourcing the material yourself.
Want to see more images of the laser in action? Check them out here.
Combined with our well-known deep inventory of round, square and rectangular sizes and extensive logistical reach, Totten Tubes is uniquely poised to be the premier source of turnkey laser processing in the West.

Sum of All Benefits: Reduced Lead Times
No matter how complex your product is, your number one goal is simple: to get there first. The six benefits mentioned above add up to one tremendous bonus: reduced lead times. If you're aiming to get your product to market before the other guys, our laser tube cutting services can help you get there.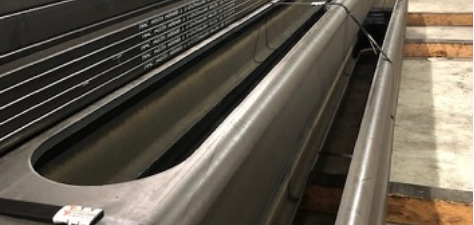 Additional Services
A true turnkey part is one that makes little to no additional work for you to do. To that end, we offer several value-added services in addition to laser tube cutting such as:
Industries
Totten Tubes provides tube laser cutting services for a broad range of industries, including:
OEM
Aerospace ground support
Agricultural
Furniture
Aftermarket automotive
Industrial fabrication/manufacturing
Communications/telecom
Get There First
To beat your competitors to market, you need to find the quickest route. At Totten Tubes, our laser cutting services aren't a shortcut. They're a superhighway. We're a one-stop-shop for turnkey parts, and we use the very best technologies and partners to make that happen. We'll help you cross the finish line without sacrificing even the smallest measures of quality. For more information about our tube laser cutting services, contact Totten Tubes today or request a quote.