Custom Sizes, Lengths & Requirements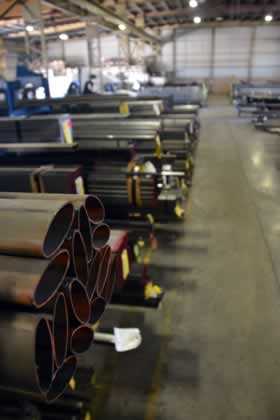 The North American steel construction industry has grown in sophistication and scale, and the time will come when you need a tubing and pipe specialist in your supply chain for those seemingly impossible hard-to-find sizes. At Totten Tubes, we know the market's capabilities and use the best manufacturers in the industry to produce custom steel tubing, custom pipes, special lengths, or material to your specific requirements.
Custom Steel Tubing
With Totten's expertise in sourcing unique tube sizes, you will find a natural partnership with us when the size you need isn't available off the shelf.  If you are not finding the exact size you're looking for, please tell us about your needs and let us negotiate with the manufacturers on your behalf.
Custom Pipe
The steel pipe market is vast and can be difficult to navigate, especially when the size you need isn't readily available.  We have resources in pipe manufacturing who can bring your size to life.
Pipe and Tubing: Special Lengths
Whether you have goals to reduce scrap, reduce splicing, or span a gap, Totten Tubes can provide material to special lengths.  Rolling cycles have gotten shorter and if you have a little time we may be able to save you some money and effort in processing your custom steel tubing or custom pipe order.
Pipe and Tubing: Special Requirements
Totten Tubes can furnish custom steel tubing and custom pipes in high strength low-alloy specs, Cor-ten weathering grades, Charpy V-notch tested, or to specific physical or chemical requirements.
Contact Totten Tubes
Request a quote for custom tubes and pipes today or contact Totten Tubes today for more information.